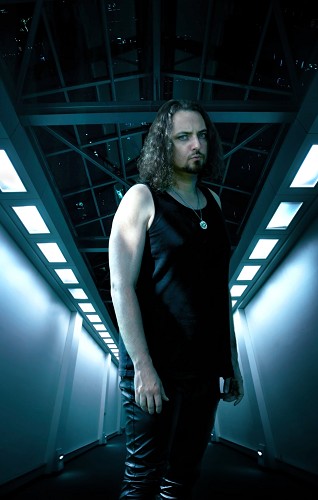 Welcome in the Max Enix Universe
Hello, 
I Am Max Enix Composer (music), Singer, Art Director, Lyricist, Manager, Actor etc... I have worked in different fields in the past (Real Estate/property more than 10 years with my business partner, Commercial, Alternative Medicine = Spiritual work, Investor, restauration, some private areas Etc...) !
If you come across my page I would like to thank you for your trust and for reading me. And I hope that this universe will please you
As you know, we are living in very difficult times and it is time for things to move and change in this society. That's why I decided to create a double (concept) album called Far From Home which will be released June 9th 2023. 

Listen and buy the Max Enix / Far From Home double Album (with the Budapest Symphony orchestra, 48pages booklet, many famous guests and surprises...) here and on all the digital plateforms (and Aural music webstore): https://maxenix1.bandcamp.com/album/far-from-home


This double album recorded with the Budapest orchestra will offer a unique sound and atmosphere 
With much more Epic, Emotional, engaged and complex/hard songs this time than before.

Max Enix "Far From Home" is a fusion of progressive-symphonic-post rock/metal , filmscore with diverse elements of world/New Age, Hip hop, Jazz, international variety and others (Avant Garde never heard before) ! For Fans of Devin Townsend, Dream Theater, Hans Zimmer, Pain of Salvation, Opeth, Ayreon, Enigma, Era, Therion, Nightwish, Rhapsody, Pink Floyd, Freddie Mercury, David Bowie, Katatonia, Empyrium, Arcturus and many many others But with a Universe of its own (Beyond music and words) ! EPIC AND UNIQUE !

This concept album will be completely in tune with today's world and what might happen, the consequences to come... It will deal with the beauty of Life..., the human condition, will be turned towards spirituality and will also denounce the human stupidity on certain points and the actions not to be reproduced any more (the corruption, the conditioning, the oppression, the tyranny, the exploitation, the forced work, the domination, the law of « do or die », the religious fanaticism, the divisions, the violence, the blindness, the I don't care attitudes etc...)

I hope that people will come to realize through this project how bad, fake and nasty some humans can be around.

Each album should be different from the others, and present a universe of their own.
The previous album, "Secret Garden", released under the name of CONSTELLIA,  was written by me and an other composer, but for this new album, I wrote the music alone, using synth, piano and others.
"Far From Home" includes 12 long tracks (the longest one lasts 26 minutes!) and 2 intros.

This is the real face of the project I wanted from the beginning. 


I am self-taught like many composers (Hans Zimmer and others), singers or artists and write everything by ear.
I promise you some sophisticated arrangements, concerning the vocal lines, the lyrics, the whole story, the videos...

Thomas Kubler is working on the superb orchestrations and some arrangements on my compositions and the excellent session musicians (all professionals) will propose some instrumental parts (arrangements based on the music, orchestrations, choruses, sometimes voices…). 


*Far From Home (2023) curated and composed by Max Enix

Far From Home is :

Max Enix: Music, Vocals, Artistic director, Actor, Lyrics/story...

Thomas Kubler: Additional arrangements, Orchestrator
François Rousselot : Conductor

Leo Margarit: Drums
Vikram Shankar: Piano/Keyboards
Jean-Jacques Moréac: Bass
Xavier Boscher: Guitars
Elise Wachbar: Vocals

David Castillo: Mix
Tony Lindgren: Master
Excellent Sound /

Milo Lee: Vocal and scenic coach, photographer, Residence supervisor...

*Important to know that Vikram Shankar have written additional piano parts to some songs and of course all the fantastic musicians have written their own parts by following the music I have written (Piano/keyboards, strings etc...), the orchestrations by Thomas Kubler and some rythmic indications I have given to them (or not) with their own way of playing ! The drums parts were already written before too and Leo Margarit have adapt them !


Vocal and Instrumental Guests:
*Andy Kuntz (Vanden Plas/Abydos/Last paradise Lost...) = Vocals
*Tom Englund (Evergrey, Silent Skies, Redemption...) = Vocals
*Devon Graves (Psychotic Waltz , Dead Soul Tribe , The shadow theory ...) = Vocals (+Flute and others maybe)
*Fabio Lione (Rhapsody, Angra, Turilli/Rhapsody, Vision Divine...) = Vocals
*David Readman (Adagio, Pink Cream 69, Solo Stuff...) = Vocals
*Marcela Bovio (Stream of Passion, Dark horse White horse, Ayreon, Mayan...)
*Farhad (Zink) Hossain (Shumaun...) = Vocals
*Mahdi MK Khemakhem (Carthagods...) = Vocals
*Laurent Lunoir (Öxxö Xööx, Rïcïnn...) = Vocals
*David Fremberg (Andromeda, Reggae Kiss...) = Vocals
*Michael Herrington (Onetwenty...) = Vocals
*Kobi Farhi (Orphaned Land...) = Vocals
*Damian Wilson (Solo Stuff, Threshold, Arena...) = Vocals
*Toby Driver (Solo, Maudlin of the well, Kayo Dot, Alora Crucible...) = Vocals
*Jon Pyres (Threads of Fate, Solo...) = Vocals
*Carsten Lizard-Schulz (Devoid, Lazarus Dream, Solo stuff) = Vocals
*Angèle Macabiès (Solo Stuff, Cover...) = Vocals
*Johanna Red (Solo Stuff, Cover...) = Vocals
*Mody Ptd (Kriteria, Save'n retry...) = Vocals
*Heather Findlay (Mostly Autumn, Odin Dragonfly, Solo Stuff...) = Vocals
*Niklas Kvarforth (Shining, Solo Stuff...) = Vocals
*Dan Swano (Nightingale, Edge of Sanity, Solo Stuff, Katatonia, Star One...) = Vocals
*Benjamin Guerry (The Great Old Ones...) = Vocals/Guitars
*Stéphan Forté (Adagio, Solo Stuff...) = Guitars
*Derek Sherinian (Solo stuff, Dream Theater, Planet X, Sons of Apollo, Black country communion...) = Piano
*Mattias Ekhlund (Freak Kitchen, Solo...) = Guitars
*Michael Romeo (Symphony X, Solo...) = Guitars
*Per Nilsson (Scar Symmetry , Meshuggah ...) = Guitars
*Shad Mae/Saout Mael (Devoid, Shadyon, Digiments...) = Guitars
*Timo Somers (Carthagods, Delain, Harrow Haze, Star One...) = Guitars
*Laurene TelennAria (Orkhys...) = Vocals + Harp
*Luciana Lys (Constellia, Nightwish Tribute, Solo Stuff...) = Vocals
*Sébastien Dubail (Constellia, Bagfed...) = Guitars
*Valou Besson Nix, Agathe Mouchy Capone, Michael and Valentin = Strange vocal sounds/effects
And others to come...

Video clip realisators:
Mathieu Buchholzer/Blue mount films
Lucas Bastian (3D Clip with Unreal...)
Bloudengaztia Wolfgang/Dronicon Films (Anime)
DMPX Web (Videos illustrations of all the songs)

Sound Designer: Olivier Chevalier

New Max Enix Website made my Bertrand Mauler with Design by Noelle Guillot :

It's a real pleasure to work with them because they understand exactly what I want and we are on the same page. It's not always the case, and I feel lucky for that.

I will publish all my compositions (instrumental demos) of the upcoming Albums (Far From Home 2h37...) when it's time after the release !

There will be no new show before the release of the album, but, among other events, a special show is to be filmed, then released on DVD in 2024 normally:

I promise you some sophisticated arrangements, concerning the vocal lines, the lyrics, the whole story, the videos... STUDIO and LIVE (Everyone will be more than ready) ! Fantastic shows/concerts are coming with transcendent and professional vocals, musicianship and others...
Transcendent albums, video clips, shows/concerts (vocals, musicians, stage performance, images, lights, sounds...) are coming ! Everything is thought-out down to the very last detail ! Everything must be close to perfection ! I will not tolerate anything less than that !

For the particular show, the entire "Far From Home" album (2h35!!!) will be performed, and maybe some CONSTELLIA moments too!


Concept Album with an elaborate story
 
Album reviews, interviews, Merchandising/Goodies, Video clips...
Concerts/show, festivals at the end of 2023/2024 and Tour in 2024 !
Many surprises to come and things are building and evolving a lot. 
Thanks for the support

*Principal Facebook Page here with lots of informations: https://www.facebook.com/max.enix.73/