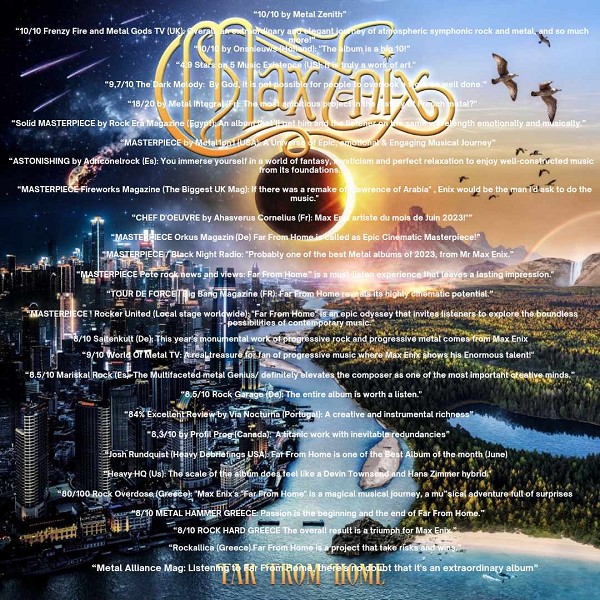 FAR FROM HOME REVIEWS
09/12/2023
Max Enix / Far From Home / Double Album / 2h40
Some reviews here (Shared Again) ! One of the Albums of the year for some ! Thanks for All ! A better world is possible

Video clips on Youtube you can watch / Angels of the Apocalyptic Storm: https://www.youtube.com/watch?v=a1LGmpn4VVo , Far From Home (Orchestral): https://www.youtube.com/watch?v=oAb6t0QvpeU&t=430s , City of Mortals: https://www.youtube.com/watch?v=unwNS_W3Z9w , Beyond my Blood: https://www.youtube.com/watch?v=-4a6eeH3lGY , Tears of Earth: https://www.youtube.com/watch?v=TKrCGM_Bhxs , The Broken Face: https://www.youtube.com/watch?v=_V1OxvPtnZ8 ETC...
Full Albums with exclusive Images/Videos (2h39) : https://www.youtube.com/watch?v=jWqlp5nONl8 , Orchestral full Albums with exclusive sounds FX (2h43): https://www.youtube.com/watch?v=gjRVoK905YA&t=4121s ETC...

100/100 TheMetalMag ! https://www.themetalmag.com/max-enix-far-from-home.../ "A living dream we all need. A worldwide collaboration of artists spreading love using music the strongest way to spread the biggest message the world needs right now. A masterpiece to own without hesitation ! Human beings are destroying this beautiful world we are living in. Music is the peace of mind and helps fly away from this madness. Added to an orchestra team, it elevate the usual albums you are used to listen to. Sometimes closed to a movie soundtrack, each track has its own life. You are embarked into a world of imagination spilling beauty and happiness expressing what the world is going through at the moment."

10/10 by Metal Zenith (USA): https://metal-zenith.com/max-enix-far-from-home/

10/10 Frenzy Fire and Metal Gods TV (UK) ! https://metalgodstv.com/max-enix-album-review-far-from-home/?fbclid=IwAR022AfWY-fK6cAqdeV8BXpvbkMHRThWs3QOJFre8OHnE8GlaXk-GwcLV-U And http://www.frenzyfire.co.uk/fa_maxenixreviews.htm?fbclid=IwAR1O3E45--LwqYkuNGnlDt-8PHw1LYuL-x7fTwnZR3wltRkq1sQyAGPPz0k Majestic, magnificent, meandering and moving. For the entire two hours and forty minutes, 'Far From Home' is a captivating and engaging slab of grandeur - definitely not an anthemic driving album!
'Far From Home' has something for every one, whether you're a fan of Dream Theater, Opeth, Nightwish, Katatonia, Pink Floyd, Freddie Mercury, or David Bowie. And as an added bonus, there's gonna be an "orchestral version" of the album released later this year! As if 'Far From Home' couldn't get any better - yes it will!
Overall, an extraordinary and elegant journey of atmospheric symphonic rock and metal, and so much more.

10/10 by Onsnieuws (Holland): https://onsnieuws.blog/2023/06/07/far-from-home-max-enix/?fbclid=IwAR0IL4vcThClNVmEC79dOEoePxp7-J3DSxXC7O5ovt5j1Av9Bv3bbXnoPeI

4.9 Stars on 5 Music Existence (US) ! https://musicexistence.com/blog/2023/07/17/album-review-max-enix-far-from-home/?fbclid=IwAR1hbrcEe5hb5BqPG4KqYCBSAcFW29p9m-fPjMt_gOufxVrRyz73Riyu96E
It is truly a work of Art."

9,7/10 The Dark Melody: https://thedarkmelody.com/max-enix-far-from-home-album-review/?fbclid=IwAR19AuG7gFCaymyC_7jQ1jWOeZ7vCapVjA2GWNbKJiMHGXwhAjIKf9TAb08
"By God, it is not possible for people to overlook a work so well done! My question is whether Max will be able to surpass what has been achieved with this monument so full of art , since the level of quality is something that exceeds all conventional limits on a full scale."
Album Of the Year for now 

18/20 by Metal Integral (Fr): http://www.metal-integral.com/fr/futures-stars/5082/groupe-max-enix.html Le projet le plus ambitieux de l'histoire du metal français ?

Solid MASTERPIECE by Rock Era Magazine (Egypt): https://www.rockeramagazine.com/album-far-from-home-by-max-enix/

MASTERPIECE by Metal1on1 (USA): https://metal1on1.squarespace.com/metal/max-enix?fbclid=IwAR1RSt6C1IxalFaXQ3x_m4Yqn0A80-BBLwZvvVYyYvHQeQbqiiW7rgDsrhU

ASTONISHING by Adriconelrock (Es): https://adriconelrock.blogspot.com/2023/05/descubre-el-viaje-personal-de-max-enix.html?fbclid=IwAR24_kNA9zZl8tYU4LynR2tRZ6onlJCEfN96XZjh6atwYu2AfthefrAoSWE

MASTERPIECE Fireworks Magazine (The Biggest UK Mag) / "The whole venture be extremely rewarding ! You will requiere patience and multiple listens before the album reveals all of its secrets, but if you have the time to do so you will discover a record that is deeply affecting. Moving on the orchestral version of the Album. The rearranged versions of these songs sound like the greatest version of a Hans Zimmer or Howard Shore soundtrack from a film that you've never seen and they are richly rewarded in their own right. Sweeping and Epic. I would not be surprised if the composer was hired to produce the music for big Hollywood Blockbusters in the very near future. If there was a remake of "Lawrence of Arabia" , Enix would be the man I'd ask to do the music." 

MASTERPIECE Brutally Delicious (US): « It's been a long time since I've heard anything at all like this ! It's a true and Grandiose undertaking / https://dcs.megaphone.fm/FPMN9239541515.mp3?key=f7a54d1f1ad6be4c766634e140aaf0f0&request_event_id=917b6815-ea77-4194-95c7-0915a1549812

CHEF D'OEUVRE by Ahasverus Cornelius (Fr) / "Monumental/Magistral Mieux qu'un opéra métal, au-delà des productions qu'on nous présente habituellement sous cette bannière, Max Enix réalise ici une véritable symphonie, une oeuvre hors-normes qui tient aussi bien du métal progressif que de la musique classique. Le résultat global est proprement impressionnant, réalisé sans temps mort ni fausse note. " Max Enix artiste du mois de Juin 2023 ! http://www.ahasverus.fr/blog/max-enix-metal-opera-far-from-home-09-06-2023.html

MASTERPIECE Orkus Magazin (De): Far From Home is called as Epic Cinematic Masterpiece! "Far From Home" is like a varied adventure, so that the double album, which does not shy away from pieces of more than 10 minutes, should be enjoyed from beginning to end. 

MASTERPIECE / Black Night Radio: "Probably one of the best Metal albums of 2023, from Mr Max Enix. A Great Masterpiece "

MASTERPIECE Pete rock news and views / http://petesrocknewsandviews.com/max-enix-far-from-home/?fbclid=IwAR3SCp0BsUmWnkcniPkI3AlWo0q-StZc5K1OXc-3mNlS7ZjyFrc0d98ZcRw Max Enix's "Far From Home" is a remarkable release that transcends the boundaries of musical genres, offering listeners an immersive and profound experience that stretches over two captivating discs. Enix's prowess as a singer-songwriter, composer, and producer shines brilliantly in this ambitious double album. Enix's ability to seamlessly blend these diverse elements is a testament to his compositional prowess and artistic vision. Whether you are a fan of progressive metal, symphonic orchestration, or simply crave a musical odyssey that defies expectations, "Far From Home" is a must-listen experience that leaves a lasting impression.

TOUR DE FORCE ! Big Bang Magazine (FR)/
Never before... A musical project brought together so many different forces, and Far From Home is nothing short of titanic.
The vocal duets are seductive, and Max Enix does magnificently well in the midst of these exceptional singers, where fury and lyricism battle it out.
Somewhere between Hans Zimmer and Devin Townsend. Far From Home reveals its highly cinematic potential.
Unique and exceptional character of Far From Home, a veritable river rock opera driven by the talent and ambition of a single man, who deserves to be saluted for his extraordinary tour de force. The self-sacrifice of an artist at the service of his work.

MASTERPIECE ! Rocker United (Local stage worldwide) <3 https://www.rockersunited.net/reviews/?fbclid=IwAR1-IwdsiiIRIzgDuV8qBS7-dIxqC08M-u00BFDmQSe5naQ6KFBTSrnFBO8
"Far From Home" rewards a unique musical experience that is almost incomparable to any other release I can think of.
"Far From Home" is a monumental achievement that showcases Max Enix's remarkable musical talents and his ability to craft a diverse and emotionally resonant body of work.
This album is a breath-taking journey through sound, with each track offering a unique and immersive experience.
Max Enix and his collaborators have created a masterpiece that will leave a lasting impression on fans of progressive music and anyone seeking a profound and transformative musical adventure.
"Far From Home" is an epic odyssey that invites listeners to explore the boundless possibilities of contemporary music.

9/10 https://www.youtube.com/watch?v=R8wmAlLWgp4 World Of Metal TV / A real treasure for fan of progressive music where Max Enix shows his Enormous talent !

4,5/5 ! https://rattlead.hu/.../03/max-enix-far-from-home-2023/... (Hungary) ! Excerpt: In conclusion, "Far From Home" is an extraordinary musical odyssey that invites listeners to explore its sonic wonderland. Max Enix's innovative composition and fusion of different styles create an immersive and profound experience that defies expectations. Whether you're a fan of progressive metal, symphonic orchestration, or simply crave a unique musical journey, "Far From Home" is a must-listen masterpiece that leaves an indelible and lasting impression. This album is a testament to the boundless potential of contemporary music and a remarkable addition to the world of music.

8.5/10 Mariskal Rock (Es) The Multifaceted metal Genius/ definitely elevates the composer as one of the most important creative minds, no longer on the international metal scene, but on any music label that self-respect: https://mariskalrock.com/actualidad/critica-de-max-enix-far-from-home/

8.5/10 Rock Garage (De) https://www.rock-garage.com/max-enix-far-from-home/?fbclid=IwAR2V1D9jtSBBZitMsfwpHunIBy6kaIPfWMvyRpTlcWEYOnfnwwhl-BiyodU
Excerpt: The use of male and female vocals alone brings a lot to the table, and as far as the songs are concerned, they already offer a lot of variety with their suspense arcs and both tempo and heaviness changes.
The orchestral version is what it says, the songs were recorded in orchestral style and are reminiscent of the soundtrack of the Schwarzenegger film "Conan".
In conclusion, a varied work with many twists and intelligent compositions. The entire album is worth a listen.

84% Excellent Review by Via Nocturna (Portugal) ! https://vianocturna2000.blogspot.com/2023/06/review-far-from-home-max-enix.html

8,3/10 by Profil Prog (Canada): https://www.profilprog.com/reviews2023/max-enix/far-from-home

Josh Rundquist (Heavy Debriefings USA): Far From Home is one of the Best Album of the month (June) ! https://heavydebriefings.weebly.com/written-material/june-30th-2023?fbclid=IwAR2zCAJwvQCfBJApZXAAdm--4hxp4N-c45fMKhC4NqXo_Gb-HXYxu4LZX6k

https://www.bluestownmusic.nl/review-max-enix-far-from-home/ Awesome Review (nl) ! Excerpt: Try to imagine a mix of Jeff Wayne's War Of The World, Hans Zimmer's film music, the prog rock of Dream Theater and the sound of Ayreon and you will get an idea of what to expect on this album. Max's powerful and sensitive vocals along the double Album. Far From Home by Max Enix is a very impressive concept album and an album that should easily find a place in the collection of every progmetal fan! The very beautifully designed textbook should also be mentioned.

8/10 Metal Digest (Greek): https://metal-digest.com/2023/06/06/max-enix-far-from-home/

Heavy HQ (Us) The scale of the album does feel like a Devin Townsend and Hans Zimmer hybrid. https://heavymusichq.com/heavy-music-hq-reviews-week-of-june-9-2023/

8/10 Saitenkult (De): https://www.saitenkult.de/2023/06/11/max-enix-far-from-home/ This year's monumental work of progressive rock and progressive metal comes from Max Enix, bears the concise title 'Far From Home' and captivates for other 160minutes !

8/10 AWESOME Review ! SoundMagnet (De) ? "Densely packed Cineastic Progressive Metal with orchestral violence. In addition to the vocals of Max Enix himself, who does a great job and is quiet varied, the female vocals are sung by Elise Wachbar and cut an equally good figure. For fans of symphonic metal with cinematic means and a lot of mass and class, Max Enix has a musical feast in store. " https://www.soundmagnet.eu/max-enix-far-from-home-album-review/?fbclid=IwAR2YlRBgVhBRdoD1wJOqb4XChW9YbWpyLVZd30SD9ReUJ3htwhQDVTW5WD4

10/15 by Betreutesproggen (De): https://www.betreutesproggen.de/2023/06/max-enix-far-from-home/?print=print&fbclid=IwAR1lwfaDUhkRiQ8pWszdN_oh0gy4QQZ3IUqt7_x-S794Iq2voCdi6_7UZTs

80/100 Rock Overdose (Greece) ! https://rockoverdose.gr/portfolio-view/%CE%BC%CE%B1%CF%87-%CE%B5%CE%BD%CE%B9%CF%87-far-from-home/?fbclid=IwAR3MkApNOSc0HITVJfGS1S_xWdyehlOQ44fVLb0uo1uT5cogu4lZQPO0XX8
Max Enix's "Far From Home" is a magical musical journey, a musical adventure full of surprises. As a songwriter, composer and producer, Enix shows off his extraordinary talent by creating an ambitious double album that perfectly combines many different genres into a single body of work.
"Far From Home" is a work that transcends and breaks the boundaries between musical genres, presenting a work with a truly fresh sound and inspiring ideas that is definitely worth a listen.

8/10 METAL HAMMER GREECE ! Passion is the beginning and the end of Far From Home. Passion for Art without limits, for unbridled creation and the elevation of man as a being and not as a consumer product.  Listen to it again and again and you will constantly discover something new.
"An extremely talented artist, one of those who doesn't just do calculations and measurements with the eyes on the number of sales, but dedicated himself soul and body to his Art.  Max Enix brings out his innermost soul, both musically and lyrically, in a way that you cannot resist and what he tells us is indicative of what it happens in his mind." 

8/10 ROCK HARD GREECE AWESOME! https://rockhard.gr/max-enix-far-from-home-wormholedeath/ "The overall result is a triumph for Max Enix, who succeeded in creating something remarkable, something that fans of progressive music, but also those who like their sounds adventurous and provocative, will appreciate above all. He who takes risks and dares wins in the end."

7.8/10 by Music Connection Magazine (Uk)

RockHard Italy AWESOME review by Emanuele Biani, DPRP (Holland) AWESOME Words, Rocknytt (Swe), Radio Erdorin (Fr), This is Rock (Es), PowerPlay Magazine / The genuine emotion Enix has for his music is clear to pick up in his vocals. I can't say I loved them , but there's no doubt he has talent. Enix should be proud of his achievement; this is a monumental project he's put together, and he should be applauded for the sheer effort it must have taken.

Awesome Rockallica (Greece). https://rockallica.com/akoysame-to-almpoym-toy-galloy-max-enix-me-ti/ Far From Home is a project that take risks and wins. This is a double Album that Highlights Max Enix's ability as a composer and artist. It is a musical journey that transcends the boundaries of musical genres. Far From Home is one of those Albums that is worth listening to without a second thought..."

Masterpiece/Awesome/Brillant by some listeners (world), advices and Many Others...

Metal Alliance Mag / An ambition that exceeds the boundaries of the imaginable! The highest spheres of symphonic and European metal (Opeth, Ayreon, Therion...)! Max and Elise make a fine vocal duo. Max's multiple nuances and Elise's soft, charming timbre are a perfect match. Max's own performance on Beyond my Blood, where he embodies several characters through the nuances of his voice - and through his acting in the video clip - delivering a dialogue with himself full of expressiveness and emotion.
Emotion is the very essence of what Max Enix and co are trying to convey with Far From Home, and it's present at every moment, filled with passion and heart.
Listening to Far From Home, there's no doubt that it's an extraordinary album, in the first sense of the word, in terms of its ambitions, which go beyond boundaries rarely reached, and in terms of the musical journey it invites listeners to take part in. Just imagine what a feat it must have been at every level (logistical, financial, writing, musical arrangement...)!
As well as the practical aspects, it's also the more abstract ones that make Far From Home stand out from the crowd, because of the immensity of the heart and soul that went into it. Far From Home finds added strength in its ability to rediscover itself with each new listen, allowing it to improve like a fine wine.

Lots of others to come...

Top 100 Albums of the year : https://www.youtube.com/watch?v=KmplUOweAL8 71/100 in front of some of the biggest names ! ETC...